Follow my Instagram account, Cinema Che, for more film recommendations for sick and rainy days, date and movie nights with your loved ones and friends.
August 2020 Recommendations
SPOTLIGHT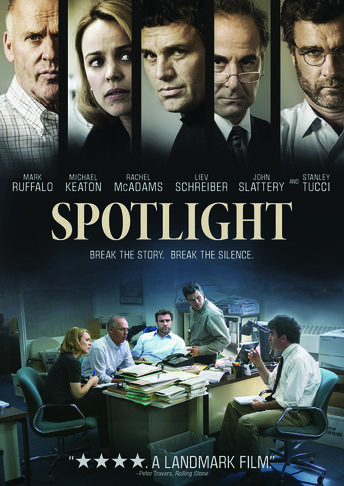 Director: Tom McCarthy ("The Station Agent" "Million Dollar Arm," "Win Win")
Release year: 2015
Cast: Michael Keaton, Mark Ruffalo, Rachel McAdams, Stanley Tucci
For fans of: "All the President's Men," "The Post," "Dark Waters"
Synopsis: A riveting journalism film which captures your imagination and makes you think: "Maybe we actually do need newspapers."
I studied journalism in grad school. I believe in newspapers. I think they are essential to investigating and holding those in power accountable. "Spotlight," which was lauded for its accuracy in its portrayal of the work of investigative reporters at the Boston Globe, is a film for those who believe in journalism. It is well-paced and tense, acted perfectly; at times, you may think you're watching an action film or a thriller and not a biographical drama. Much like "All the President's Men," the 1970s classic about the investigation into the Watergate scandal, the scandalous events depicted by writer-director Tom McCarthy actually happened. In 2001, The Globe's investigative unit uncovered decades worth of sexual abuse committed by more than 70 Catholic priests across Boston and then covered up by the church's leadership. The scandal had national and international implications. I can say a lot about the depiction of working newspaper journalists by the cast, which featured Michael Keaton, Mark Ruffalo, Rachel McAdams, and Stanley Tucci. But, the awards speak to the film's excellence; "Spotlight" won Best Picture and Best Original Screenplay at the Oscars, the Critics' Choice and Satellite Awards' for Best Cast, and a total of 69 awards out of 133 nominations (the Boston Society of Film Critics gave the film its best film, screenplay, and ensemble awards). "Spotlight" holds a 97% fresh rating on Rotten Tomatoes. Go watch it.
Quote:
Conley: "I know this is Baron's idea. His agenda. He doesn't care about this city like we do. I mean, how could he?"
Robinson: "This is how it happens, isn't it, Pete?"
Conley: "What's that?"
Robinson: "Guy leans on a guy and suddenly, the whole town just looks the other way."
LA LA LAND
Director: Damien Chazelle ("Whiplash," "First Man")
Release year: 2016
Cast: Ryan Gosling, Emma Stone,
For fans of: "Midnight in Paris," "500 Days of Summer"
Synopsis: A potent, magical film that perfectly balances romance with heavy truths about the dreamer's struggle to achieve love and success.
I watched "La La Land" three times in the cinema. The film, a passion project of director Damien Chazelle and his Harvard classmate, composer Justin Hurwitz, was originally written in 2010 and it took Chazelle's breakthrough directing "Whiplash" to get it made. While it has elements of romantic comedy, it is an otherwise serious musical about two struggling nostalgics—Seb (Ryan Gosling), a jazz pianist, and Mia (Emma Stone), an actress—whose lives intertwine as they pursue their dreams. The movie may spur memories of "500 Days of Summer," but it is grander in its ambitions. While you will laugh, you will also empathize with the way the relationship between Seb and Mia blossoms then dissipates. I heard many complaints about the film's ending. But, I loved it. In life, Hollywood endings are rare. In a film about two artists living and working in Hollywood, it's a beautiful irony that their ending is realistic and not a fairytale. In an awkward fiasco at the 2017 Academy Awards, "La La Land" was accidentally named the winner for Best Film (the award was intended for "Moonlight"). However, it did collect awards for Best Director, Best Actress, Best Cinematography, Best Original Score, Best Original Song ("City of Stars") and Best Production Design, as well as the BAFTA for Best Film and Golden Globe for Best Musical/Comedy. The film holds a 91% fresh rating on Rotten Tomatoes, and eviscerated box office numbers, earning $446 million ($30 million budget).
Quote:
"City of stars,
Are you shining just for me?
City of stars,
There's so much that I can't see.
Who knows,
Is this the start of something wonderful and new?
Or one more dream
That I cannot make true?"
NO COUNTRY FOR OLD MEN
Director: Joel and Ethan Cohen ("Fargo," "True Grit," "Inside Llewyn Davis")
Release year: 2007
Cast: Tommy Lee Jones, Javier Bardem, Josh Brolin, Woody Harrelson, Kelly Macdonald
For fans of: "There Will Be Blood," "Hell or High Water," "Sicario"
Synopsis: A somber crime thriller with neo-Western motifs, layers of fascination, and one of the most iconic villains of modern film.
"No Country for Old Men" is true to the Cormac McCarthy novel on which it is based; in fact, the sections of the novel directors Joel and Ethan Cohen omit actually make it a better film, condensed in its intensity and ever-more focused on what has become the film's legacy: the iconic Anton Chigurh. To say Chigurh (Javier Bardem) is terrifying is understating the impression he makes every time he is on screen. His haircut. His boots. The stiffness of his delivery of philosophic musings which nearly always lead to the death of the person across from him; at one point, a fellow hit-man sent to end the chase, Carson Wells (Woody Harrelson) calls Chigurh out on his calculated lunacy—it doesn't end well for him. The story is greater than just Chigurh. He is a hitman sent to clean up a mess in the Texan dessert, where two drug factions kill each other in, presumably, a deal gone wrong. A hunter, Llewelyn Moss (Josh Brolin), finds the money by sheer providence, then is on a chase to escape with his wife, Carla Jean (Kelly Macdonald), before Chigurh or the Mexicans find him. The book is narrated by Ed Tom, an old-timey sheriff who is astounded by the cruelty, which happens just as he prepares to retire. The film title is a reference to his belief that the country he grew up in has passed him by. In the film, Tommy Lee Jones, who is a native to the county in which the novel and film take place, does less narrating, but is just as prominent. "No Country for Old Men" earned $172 million in the box office ($25 million budget) and won the Best Picture, Best Director, Best Supporting Actor, and Best Adapted Screenplay categories at the Academy Awards and was named by RollingStone as the fifth-best film of the 2000s. It currently holds a 93% fresh rating on Rotten Tomatoes.
Quote:
Chigurh: "What's the most you've ever lost on a coin toss?"
THE END OF THE TOUR
Director: James Ponsoldt ("The Spectacular Now")
Release year: 2015
Cast: Jason Segel, Jesse Eisenberg
For fans of: "The Last Black Man in San Francisco," "Steve Jobs," "Capote"
Synopsis: An intimate, fictionalized account of the five days Rolling Stone reporter David Lipsky spent with modern literary great David Foster Wallace during his promotional tour for "Infinite Jest."
It's hard to imagine another film so specifically crafted for the person who believes in a dream about who they want to be, what they want in order to count their life a success, and then gets to intersect with the individual—the idol—who represents all they covet. This affliction so inherent to the writer (I began writing seriously, in part, because I so deeply aspired to be like Hemingway or Wright Thompson). "The End of the Tour" an indie drama based on Lipsky's book, "Although of Course You End Up Becoming Yourself," is moving and warm. It is basically Jason Segel, who plays Foster Wallace, and Jesse Eisenberg (Lipsky) conversing, like two old friends, for nearly all of the film's 106 minutes. Their dialogue is sharp and intelligent. Many of the lines are taken directly from the memoir, which consists of transcripts from Lipsky's recorded interviews with Wallace during a time when his fame was skyrocketing and Lipsky's career as a fiction writer was fledgling. Director James Ponsoldt made it so the two protagonists did not actually meet until the day before shooting in order to inject a genuineness to the way their relationship forms in the film. So much of "The End of the Tour" will seem familiar (the journalistic tics of Eisenberg are dead-on), nostalgic, and sad, knowing that it exists largely because of Wallace's suicide by hanging in 2008. In fact, his family and estate were opposed to the film's production, citing that Wallace himself, as is shown in the film, was leery of attention and coming off as if he reveled in the fame thrust upon him by his genius.
Quote:
Lipsky: "He wants more than he has. I want precisely what he has already."