Follow my Instagram account, Cinema Che, for more film recommendations for sick and rainy days, date and movie nights with your loved ones and friends.
June 2020 Recommendations
DEEP THOUGHTS: LOOPER
Director: Rian Johnson ("The Brothers Bloom," "Star Wars: The Last Jedi," "Knives Out")
Release year: 2012
Cast: Bruce Willis, Joseph Gordon-Levitt, Emily Blunt, Paul Dano, Noah Segan
For fans of: "Cloud Atlas," "Inception," "Elysium," "Oblivion"
I rarely take days off from work. But, one day in 2013 when I was under the weather from eating bad hot dogs, I took advantage of eight hours of free time to watch "Looper," a 2012 Rian Johnson film about time-traveling hitmen, called loopers, who assassinate people from the future who are sent back through a portal in time. Sometimes these loopers, like Joe (Joseph Gordon-Levitt), are assigned to kill a future version of themselves (Bruce Willis). But, why? It turns out there's much more at play than carrying out hits—as an encounter with farm-mom Sara (Emily Blunt) and her unusually-gifted son Cid (Pierce Gagnon) reveals. Like all good dystopian worlds, the world of Looper parallels much of our own: family, mourning, fear, logic, love.
Quote:
Young Joe: "Then I saw it. I saw a mom who would die for her son. A man who would kill for his wife. A boy, angry and alone. Laid out in front of him, the bad path. I saw it. And the path was a circle. Round and round. So I changed it."
DATE NIGHT: RUBY SPARKS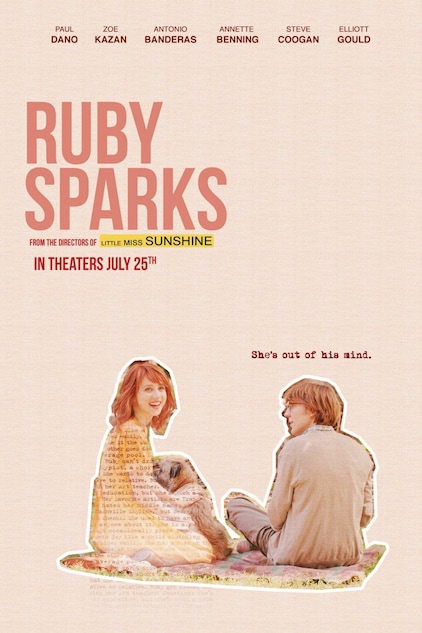 Director: Jonathan Dayton and Valerie Faris ("Little Miss Sunshine," "Battle of the Sexes," "Living with Yourself")
Release year: 2012
Cast: Zoe Kazan, Paul Dano, Antonio Banderas, Chris Messina
For fans of: "Midnight in Paris," "500 Days of Summer," "Celeste and Jesse Forever," "The Big Sick"
Written and directed by two real-life couples, 2012's "Ruby Sparks" is a fun and uncanny faux romantic comedy about the impossible. In it, a writer, Calvin Weir-Fields (PaulDano), materializes a woman he writes as the character in his latest novel. She, Ruby Sparks (Zoe Kazan), is at first everything he wants her to be. Though, like every person in every relationship for all of recorded human history, her imperfections eventually surface. When they do, the writer, a once-genius in the mold of J.D. Salinger ("The Catcher in the Rye"), who seeks to be reaffirmed after years of writer's block, rewrites her to fit the mold he's cast for her. Despite every rewrite, he is never truly happy or fulfilled and the relationship collapses. Kazan, Dano's real-life partner, wrote the film as an allegory to show that everyone changes. We are all imperfect. You cannot rewrite the person you love without destroying some part of them. You must either accept them or move on (though, it's never really that easy, is it?). With Chris Messina and Antonio Banderas in supporting roles as Dano's doltish brother and eccentric stepfather, "Ruby Sparks" is the indie movie fan's romantic comedy. It's also a film for fans of Dano and Kazan, who are a rare breed among Hollywood's stars: honest, versatile (they co-wrote and directed 2018's "Wildlife" with Carey Mulligan and Jake Gyllenhaal), and peculiar.
Quote:
Harry: "This is insane! You manifested a woman with your mind!"
Calvin: "You can't tell anybody, not mom, not Suzie, no one."
Harry: "So we're just going to pretend she's your girlfriend?"
Calvin: "She is my girlfriend. Stranger things have happened."
Harry: "I don't think so. I think this is pretty much the strangest thing that's ever happened. Ever."
I NEED A LAUGH: MOONRISE KINGDOM
Director: Wes Anderson ("The Darjeeling Limited," "The Grand Budapest Hotel," "Isle of Dogs," "The Royal Tenenbaums")
Release year: 2012
Cast: Jared Gilman, Kara Hayward, Bill Murray, Bruce Willis, Tilda Swinton, Edward Norton
For fans of: "Hunt for the Wilderpeople," "Beasts of the Southern Wind," "Juno," "Little Miss Sunshine"
Like in all Wes Anderson films, the bright and carefully constructed world of "Moonrise Kingdom" is both familiar and fantastical. Its 12-year-old protagonists, Sam (Jared Gilman), an orphan Boy Scout, and Suzy (Kara Hayward), a misunderstood girl living on a remote island, exist in opposition to the world around them. Theirs is a love story as innocent and awkward as are most in the years before the line separating childhood and adulthood blurs in puberty. The adults in the world of "Moonrise Kingdom" are, quite intentionally, sad and broken. This is what Sam and Suzy run from—to not become the loveless couple (Bill Murray and Frances McDormand), disenchanted police officer (Bruce Willis), or cold-hearted social services worker (Tilda Swinton). Their story is full of beautiful childhood adventures—even a faux wedding ceremony conducted by a troop leader (Jason Schwartzman), who, with Scoutmaster Ward (Edward Norton), are two figures in the film who embody the nostalgic cherishing of youth even while their own adult lives are as imperfect as the more-blinded adults on fictional New Penzance Island. Anderson's screenplays read like an Ernest Hemingway short story; the audience must interpret what is happening based on the frequent visual and dialogue clues, though the world itself can appear emotionless (the lines of dialogue, as typical of Anderson's works, are occasionally elaborate, often short, always deadpan). This is a classic storyteller's technique: show don't tell. Your brain must be fully engaged while watching films like "Moonrise Kingdom." If it is, you will be grinning throughout. The non-Anderson film this most closely resembles, to me, is Taiki Waititi's "Hunt for the Wilderpeople," another charming childhood adventure story. For a more in-depth analysis of "Moonrise Kingdom," visit the YouTube channel, "Lessons from the Screenplay."
Quote:
Sam: "Why do you always use binoculars?"
Suzy: "It helps me see things closer. Even if they're not very far away. I pretend it's my magic power."
Sam: "That sounds like poetry. Poems don't always have to rhyme, you know. They're just supposed to be creative."
GUNS, KNIVES, AND FISTFIGHTS: CAPTAIN PHILLIPS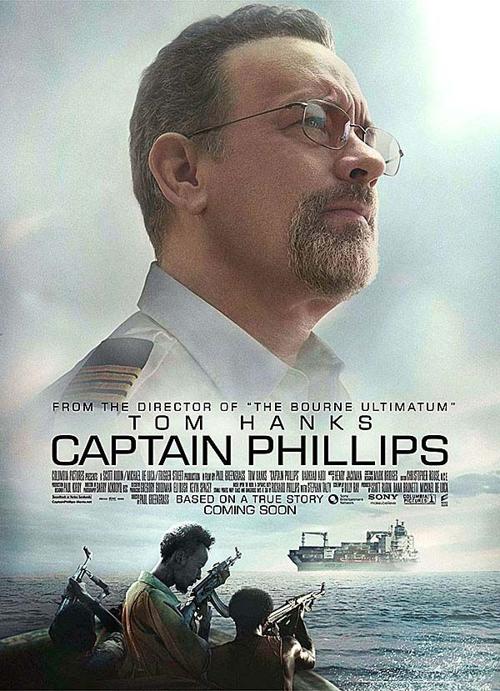 Director: Paul Greengrass (The "Bourne" triology, "United 93," "Green Zone")
Release year: 2013
Cast: Tom Hanks, Barkhad Abdi,
For fans of: "7 Days in Entebbe," "Black Hawk Down," "Air Force One"
The 2013 thriller "Captain Phillips" is based on the true story of merchant marine Capt. Rich Phillips, who in 2009 was taken captive by teenage Somali pirates who took control of the Maersk Alabama while en route to the Port of Mombasa in Kenya. The film is heart-pounding with intense action sequences and memorable dialogue (you've likely heard a friend repeat, "I'm the captain, now," even if you haven't seen "Captain Phillips"). Tom Hanks, a top draft pick for any leading good-guy role in Hollywood, and Barkhad Abdi, a chauffeur in Minneapolis when he was cast as the pirate leader in "Captain Phillips," his first film appearance, and paid $65,000 for the role for which he won the BAFTA Award for best supporting actor, are outstanding. Unlike some more typical heroic thrillers where an always-good guy ultimately defeats an always-bad guy, the story is a tragicomedy, where four poor pirates with AK-47s eventually face off against the might of the U.S. Navy for Phillips's rescue. Director Paul Greengrass (The "Bourne" series, "United 93") and writer Billy Ray ("Richard Jewell") infuse "Captain Phillips" with a particular sympathy for the pirates, wearing rags and working under the demands of paramilitary leaders who threaten their families and villages (in real life Abduwali Muse, who is currently imprisoned in Indiana, was homeless by the age of 12 and scrapping for a living as a fish cook before being recruited to hijack ships). The film earned $219 million in the box office, six Academy Award nominations, and was on several top 10 lists. It boasts a 93% fresh rating on Rotten Tomatoes, though it drew some criticism stemming from a lawsuit filed by members of Phillips' crew on the Maersk Alabama who said Phillips was knowingly sailing dangerously close to Somali shores despite repeated warnings about pirates active in the area when the attack happened.
Quote:
Captain Phillips: "There's got to be something other than being a fisherman or kidnapping people."
Muse: "Maybe in America, Irish, maybe in America."
SUSPENSEFUL STUFF: DRIVE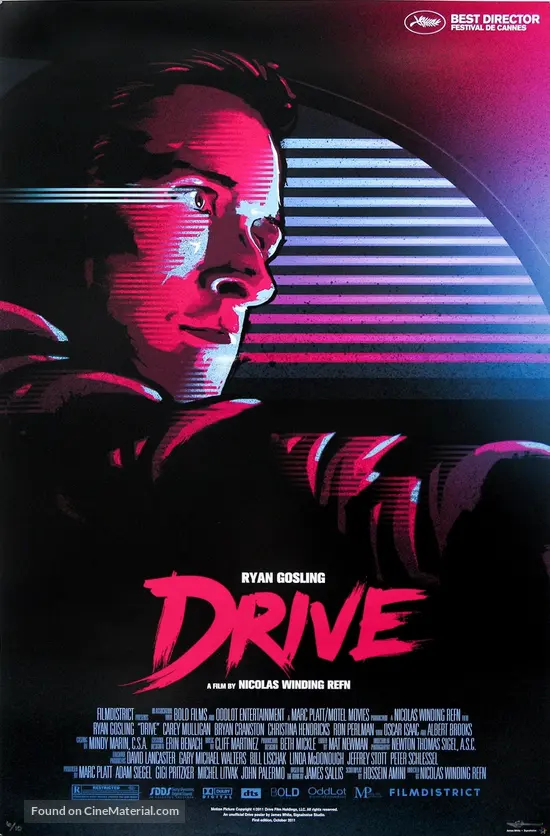 Director: Nicolas Winding Refn ("Pusher" trilogy, "Bronson," "Only God Forgives")
Release year: 2011
Cast: Ryan Gosling, Carey Mulligan, Oscar Isaac, Ron Perlman, Albert Brooks, Bryan Cranston
For fans of: "Oldboy," "Collateral," "No Country for Old Men"
One of the most nominated films of 2011, "Drive" is an under-the-radar action thriller for fans of arthouse cinema. The film itself is short and aggressive, and its lead, Ryan Gosling, playing a Hollywood stunt driver who moonlights as a getaway driver for Los Angeles's criminal class, carries it with a stoic, constrained performance typical of his indie turns (see "Half-Nelson," for which he was nominated for the 2006 Oscar for best actor, and "The Place Beyond the Pines," for reference). There is little exploration of Gosling's driver character's history or motivations—in fact he has no name, only Driver—and he speaks less than any human being you know. The film's action unfolds after Driver's neighbor, Irene, (Carey Mulligan) welcomes home her husband, Standard (Oscar Isaac), with whom she shares a young son Driver formed a relationship with in the weeks before his father's return. Standard is forced to rob a pawn shop as reimbursement for protection he received on the inside, and Driver offers his services as a getaway driver. Predictably, all goes wrong and Driver finds himself battling mob forces, who turn out to be the same people (Ron Perlmen and Albert Brooks as Jewish pizzeria owners on the wrong side of the East Coast Mafia) that earlier in the film had purchased a car from crooked manager/auto-shop owner Shannon (Bryan Cranston) for Driver to race for money. The world of "Drive" is surreal; its ends wrapped together by the electronica theme song "A Real Hero," co-written by College and Electric Youth. Throughout the film, Gosling's character, who wears a progressively-bloodier Scorpion jacket, alludes to the Russian fable, "The Scorpion and the Frog." The point: no matter how hard a scorpion tries—no matter how much its actions wind up damning it as well as its victim—it cannot deny its nature. Danish director Nicolas Winding Refn was awarded best director at Cannes for this adaption of the 2005 James Sallis novel of the same name.
Quote:
Driver: "You ever hear the story about the scorpion and the frog?"
CRITIC'S FAVORITES: LION
Director: Garth Davis ("Top of the Lake," "Mary Magdalene")
Release year: 2016
Cast: Dev Patel, Sunny Pawar, Rooney Mara, Nicole Kidman
For fans of: "The Pursuit of Happyness," "The Good Lie," "Wild," "The Intouchables"
I remember feeling very little excitement about "Lion" when I went to see it in theaters in 2017. "A movie about Google Earth, how is that going to be compelling?" I thought. Based on the memoir "A Long Way Home" by Saroo Brierley, "Lion" is less about the technology that made possible his return and more about the journey of a young, poor, rural boy from an Indian village who is lost, becomes an orphan, and is eventually adopted and raised by an Australian family on the island of Tasmania. The film is split in half: the first focuses on the lost boy (Sunny Pawar) and the journey from his first family to a new one , while the second focuses on the man (Dev Patel) and his all-consuming search backward in time to find his mother, brother, and sister again. What you experience through Patel's exceptional portrayal of Brierley is the excruciating power of memories and how longing for something or someone can swallow and define who you are. One he remembers home, he is tormented. The real life Saroo described shelving that chapter of his life while growing up in Australia, then returning to it as a university student. Once the floodgate opens, there is nothing Brierley's parents (Nicole Kidman, David Wenham) or girlfriend (Rooney Mara) can do to help him until his odyssey is complete—which it is in the film's teary climax. "Lion" is the first feature film from director Garth Davis. It captures the beauty and scale of both India and Australia beautifully, complemented by a piano and strings-driven score that deepens its emotional vigor. Nominated for six Academy Awards, "Lion" is the fifth highest-grossing Australian film of all time.
Quote:
Saroo: "I'm starting to remember a life I had forgotten."
Lucy: "You okay?"
Saroo: "I had another family, a mother, a brother. I can still see their faces."
Lucy: "What happened?"
Saroo: "I have to find my way back home."